Dr.Kostal has been actively involved in horses her entire life. She has shown in local shows, COSCA and AQHA – She was actually COSCA Queen in 2006! Currently, Dr.K owns 4 quarter horses: A 3 year old hunt seat horse named "Giovanni", a 2 year old Reiner prospect named "Brandon", a yearling buckskin filly named "Vino" and also a laid back trail horse named Maverick.
Dr.Kostal always loved working with large animals and routinely works on cattle, sheep, chickens, goats and alpacas! We are supportive of the local 4-H groups and actively support Cuyahoga County 4-H
* Teeth Floating – We offer both power-floating and hand floating to fit your horses needs! Floating a horses teeth is recommended every 6-12 months depending on wear of the teeth. Floating a horses teeth is necessary to prevent sores and discomfort in your horses mouth, which occur from the sharp points that develop due to the natural chewing action of horses.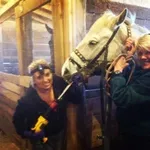 * Annual Physical Exams/Spring and Fall Vaccinations, Deworming. Dr.Kostal recommends fecal testing your entire herd twice annually and deworming based on fecal results. Thorough physical exams and pre-purchase exams are available.
* Coggins testing, fecal analysis, bloodwork and full diagnostics.

*Acupuncture available Spring 2023!
**Chiropractic services available winter 2023!